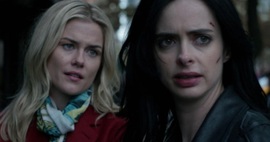 This was
The Best
episode! Seriously.
Pros:
Characters: A deep look into both our hero and our villain
Writing: Very dialogue heavy, which is often a con, but with writing and acting this good, it was amazing! More please!
Cons:

Nit picking: This doesn't hurt the story at all--and it's actually one of the most powerful scenes in the series so far--but there is some video camera footage from a character's past that has some gorgeous editing and multiple camera angles...extremely unlikely given the context.