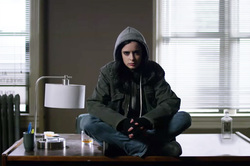 Bad news: this was another setup episode.
Good news: it was still very watchable and interesting. There were some twists I didn't see coming, but I did call the big reveal at the end (which made me feel smart). This episode had many of the same pros from previous episodes, so I won't repeat those.

Pros:

Character development: This was a good episode for both Jessica and Trish's characters. Some of the other supporting characters are getting more interesting and becoming more involved in the story as well.
Cons:

More set up: This was a good episode, but after the highs of episode 3, I was hoping to continue the forward momentum, but Jessica (and the viewer) is left in the dark again about Killgrave and his plans.