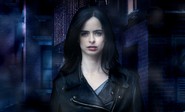 Despite being a slower episode, I think episode 2 has more going for it than the previous episode. It's not quite as emotional as episode 1, but the plot and character development move in the right directions...
Pros:

Krysten Ritter: She seriously nails this role! Her acting is absolutely impressive and carries the show.
Jessica Jones: So physically strong, but her circumstances drive her to use her mind a lot more than her muscles. She has even better reasons to keep people out than Peter Parker! Jones is a really great character.

Fight scene: The fight scene was satisfying! Jessica got to use those 'guns!'
David Tennant: I didn't know you could be so nasty!
Undecided:

Supporting cast: They're getting more interesting, but the supporting cast still needs a more development. Luke Cage is starting to win me over--I do think he is cast perfectly. However, the power saw moment, which was wonderfully dramatic, made me question: did he bring that thing with him? Weirdo. (Possibly the door guy left it? Did I miss something?)
Cons:

Set up: As enjoyable as I found the details, this was mostly a set up episode. There are excellent moments, but this episode lacked conflict. I hope something dramatic happens next episode!