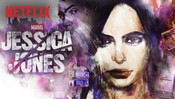 I watched episode 1 of
Jessica Jones
today, and decided to post a mini-review. I'm not familiar with the Jessica Jones comics, so this from the perspective of a newcomer to the character.
Pros:
Krysten Ritter: Plays the title character brilliantly, very nuanced

Jessica Jones: Physically powerful, emotionally damaged, Jones is interesting and relatable
Excellent villain: We haven't even met David Tennant's character yet, but his presence is huge and terrifying--a perfect foil for Jessica's powers

No origin story: We get enough info, but we aren't stuck in the past--that story will come out naturally with time

Cons:
Predictable plot: I love what this episode sets up, but despite the plot being satisfying, I saw it all coming
Luke Cage: Clearly a nice guy, but I feel like the only reason his character is interesting in this episode is because we know he is Luke Cage--after some fleshing out, I'm sure his character will jump to the 'pros' list

Sex: Clearly, sex is an important part of this story and leaving it out would neuter the story big time, still, I felt the main sex scene was more graphic than necessary


Episode 1 is a promising start to a realistic (as realistic as the Marvel universe can get) portrayal of super heroes and villains. This episode isn't ground breaking, but it's solid, and seems to be setting up a very emotional, epic, and habit-forming television show!