This is the first of my series of artist features! You can find them at jbrenthill.com/blog and jbrenthill.deviantart.com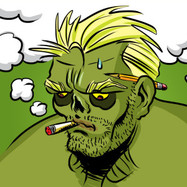 Mutant Comix, a.k.a. James Johnson, is a digital comics artist who works out of New York City. His big projects his horror web comic series.
Dead Tree
is already complete, and
Mutant Comix
is ongoing. He specializes in digital artwork, and I thoroughly enjoy his kinetic, brightly colored style. If you enjoy the gritty word of horror comics, mixed with mutants and robots, you shouldn't miss out on Mutant Comix!
You can find
mutantcomix
at
mutantcomix.com
and
mutantcomix.deviantart.com
Here is a selection of pieces by mutantcomix that I admire: