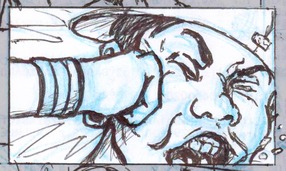 Apologies for my inactivity! It's likely you didn't notice, since few people are reading my blog! Thus, I'm going to start posting questions here to try and get some confirmation that more of you are visiting!
The panel on the left is from the rough draft of a Tantum Gray page I sent to Steven today (+200 bonus points to Steven who already does comment on my blog! Hooray!). My art was a little slow last week because of illness, but I did draw another wild critter you can see at deviantART!

Here is my question, which I hope you will answer in the comments and which I promise to respond to: Who is your favorite super hero?

I have several answers to this question, but as a child my favorite was always Spider-Man! Needless to say, the trailer that came out a few days ago for The Amazing Spider-Man 2 (thank goodness they decided against a cheesy subtitle) left me drooling on my computer screen and speculating wildly! Surprisingly, my wife Erika did not have the same reaction. Oh, well. At least I know she'll go and watch it with me on opening day!

Here is a link to the trailer if you haven't seen it:
The Amazing Spider-Man 2 Trailer
And please tell me about your favorite super heroes!