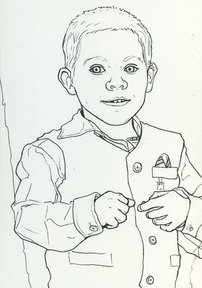 I got a good amount of art finished today, considering I only had a few free hours! I did the pencils for a
Tantum Gray
page, and also drew this little guy! He is the son of my friend Shannon. She has five phenomenally cute kids and she's also great at photography! I'll be adding watercolor to this in the future, which I'll be posting on deviantART. You can also see a bunch of Shannon's photographs on DA as well:
http://photoartbyshannon.deviantart.com/
Fake Fact of the Day: 7 out of 10 artists wear cartoon character underwear. Just ask 'em!