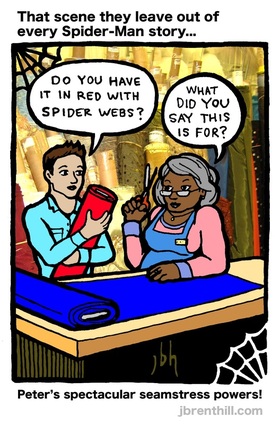 This little drawing is one that my wife Erika requested. She always says that the hardest thing for her to believe about Spider-Man is that he sews his own costumes--and I can't blame her for being skeptical!

Another of my favorite art forms is animation! There are so many great movies and tv shows that utilize animation to tell fantastic stories. I could make a long list of favorites, but one animated tv series that I highly recommend is Samurai Jack. It features great creatures, robots, and aliens, creative uses of the medium, and it's also tons of fun!

I'd love to hear what some of your favorite animated features are--whether tv or movie format. Thanks!