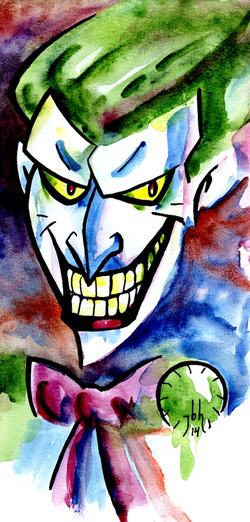 Hello! I've been a bit under the weather this week, but I've still managed to do a fair amount of artwork! This beauty was supposed to be for Watercolor Wednesday, but it also fits for Fan Art Friday! I tried, the "messy" look for this picture of the Joker from Batman: The Animated Series (which truly is the definitive Batman cartoon). I hope you like it Missvirginia! Thanks for visiting my blog so often!

I've also redrawn 5 out of the 20 pages of Tantum Gray #1, and I'm hoping to have the remaining 15 pages done by the end of February. I'm still working on Erika's pieces for her office, but what I have finished looks amazing (in my opinion, and Erika agrees). I'm also working on a steampunk piece that I've been commissioned for and I'm really excited about it!

As for next week, I already have suggestions for Monday and Friday, but Tuesday, Wednesday, and Thursday are still available for requests!